A
purple light cascades down the spires of the drow city. Perhaps you have heard of such cities. If you had, you'd notice this one to be a rather small city, build around a central building, the same building you are being lead to. Something is not right. Your thoughts feel like lazily wandering through your head, taking their sweet time and then some, preventing you from stringing things together. Perhaps digging out how you go here will help.
Lena
You wanted to explore the underdark. Infact, you were sucessful, there was a hidden mithral ore source that you had just begun analyzing when you felt a sting and then suddenly felt sleepy. You must have made too much noise..
Dasyra
You remember fighting the drow at their outpost, actually. But you were captured, chained up and now.. it appears you are dragged along to whatever dark destination they want to bring you to. Interestingly you catch up snippets of discussion, something disaparaging you in a lewd way, and an auction that will happen.
Lily
(auto sucess on check)
You and a group of dazed women are lead off to be auctioned away. Apparently you have been 'Aquired' by a specialized drow team that works for a powerful matron. With one of the drow holding your Phylactery close in hand there isn't much you can do but observe as you are lead into the backrooms of what you assume is an auction hall. You do notice several exotic potential buyers on your way there, so apparently this is a bigger event of sorts.
Lorelai
The injuries had been clearly created by a drow raid, so much you had expected to deal with. You didn't expect for them to return for one of their own.. and you had just been looking foward to get a closer look at drow anatomy. Well, it seems you still might, though perhaps not in the way you intend.
(All, Constitution DC 10 )
You are lead along in a tranquilized daze, to the backroom of a larger auctionhouse like structure.
In the distance you hear an announcement:
"Laaaaaaaaaadieeeeeees and Geeentlemen! Next up our big auction for the month, a group of heroes, freshly collected to serve YOU! These unilkely heroes will be auctioned off as a group, and we begin at 2500 Platin! Keep in mind, they are untrained, but will be provided with their full equippment and in top condition! We'll be right back and start in 10 minutes!
Your daze finally fades slowly, only to see a group of male drow:
moving to strip you naked, removing any gear you have on yourself and instead beginning to squabble how to make you 'look good' There is exspecially some hesitation about the aasimar.
? ? ?
Underdark Slave market
Tag: All
A very richly dressed drow with oddly calm, blue eyes enters, beginning to speak in elvish:
"Ah, finally, you gathered the harvest. what are you waiting for, dress them up pretty, put their gear in the slave-bags for later. We got a lot of higher calibre sellers ready for the purchase."
Under her direction the drow rush to produce a row of revealing outfits and before long, the heroines find themselves wrapped up in Harem outfits that emphatize, rather than hide, if they don't struggle.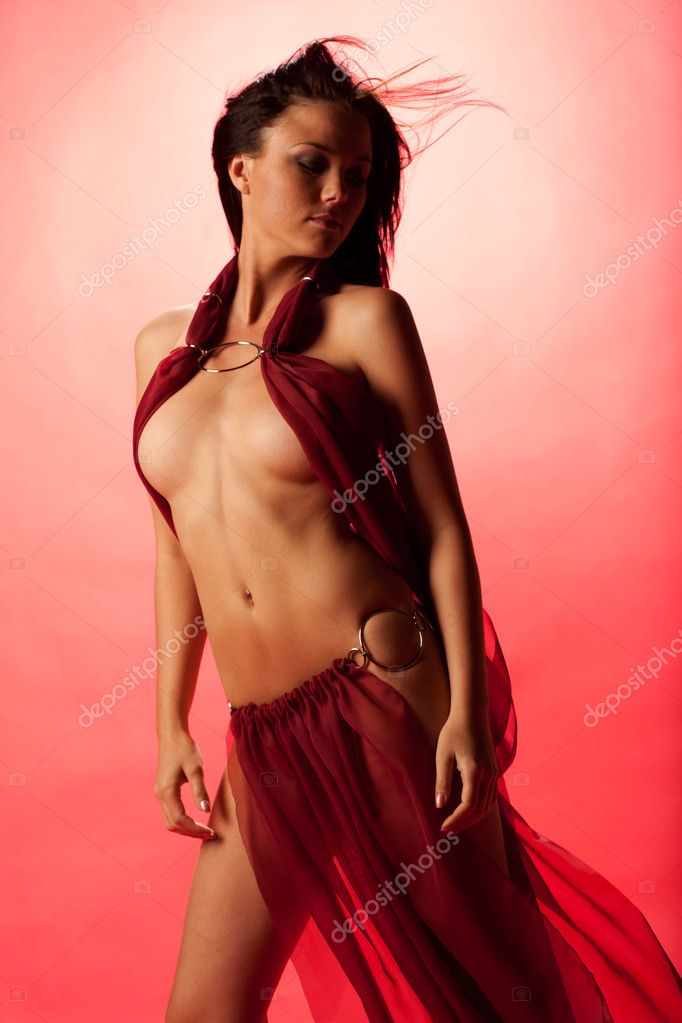 Indeed, by now they can struggle and look around. It seems that they are in a 30x40 ft preperation chamber illuminated by purple crystals. There are rows of clothing as humiliating and revealing as what they are forced to wear, their gear already carried away. To their right there is the entrance they entered through.. if their foggy memory does not betray them, to their left is a large crimson curtain, from behind which muffled sounds of many people can be heard.
Infront of them stand two male drow assistants and behind them a female high elf thrall, yes, thrall seems to be the right word, with her empty eyed smile, wearing an outfit similiar to yours.
The male drow seem reasonably well equipped, but you think you can take them, however, you find yourself in the company of other adventurers each of them just wearing a harem outfit and a metal collar with a purple gem, faintly glowing in it. A touch to your neck will reveal you wear a similiar collar currently. (With the exeption of the Lich.)
The female drow reaches out to pull back the courtain again, leaving and exiting, showing you that ahead of you lies a stage and a table of.. clearly not surface people:
From outside you hear the female drow speak, her voice loud and clear, perhaps magically enhanced and in fluent common:
"As you all know we are at Vei'naran, the greatest exotic slave market of the underdark.. that place where you come to when you want more than an ordinary drow, duergar, human or orc and this is the heroes auction!
Only once every few weeks we gather enough heroes, make them yours, only to show you that you don't need to fear them, if you can enslave them! Remember, these heroes are fresh from the surface world, not completely trained, but as we all know.. that can be most of the fun. Remember, this is a VIP bidder auction only, you can only participate if you bought a pass. Now then! I shall introduce the heroes for your buying and viewing pleasure.
First, Lena Weiss, a half-angelic slayer of beasts."
Suddenly, Lena felt a strong urge to walk forwards. (Roll a will save if you want to resist!)
"She is actually a well hung Futanari, knowing how to pleasure a cock. She will service your cock eagerly and dutifully, present herself to be impregnated and serve your every perverse desire. Outside of the bedroom she will delight in smithing weapons for your armies of terror or slaughtering your foes herself."
I seemed, whatever was going on, if you wanted to stop it, you'll have to think fast.
(Knowledge Arcana DC 20: Those collars look like slave collars. You don't think you are under complete control of yourself right now.)
(Perception Dc 20: You hear some of the mumbling outside. Apparently the main attraction is happening soon. You have a sinking feeling that attraction might be you.)
(Sense motive DC 15: The male drow seemed rather intimidated by the one that just left.
(Feel free to do other checks as apropriate!)
Last edited:
1