I was subscribed to this artist because of his pixel animations, but it was the game he was developing all along. Was in beta version 1.0. Didn't play much, but gameplay looks decent, platformer beat 'em up action with rape scenes, some rpg elements like leveling up?
EDIT: The game is out now.
http://www.dlsite.com/maniax/announce/=/product_id/RJ228815.html
link to the game, demo is available.
http://www.pixiv.net/member.php?id=8238355
artist page
http://roboforexpartner.com/threads/ayurakuraishisu-ayura-crisis.11290/post-1000610
uncensor
Description from pixiv page:
画像は楽しそうな場面のスクリーンショット。
戦闘中のエッチと、えっち関連のステータスや状態異常、あと戦闘が楽しいえっちなアクションRPGゲームです。
細かいバグは有ると思いますが、大きなバグはしばらく出てないので大丈夫……なはず!多分!
アクションゲームなので、なるべく説明書を読まなくても直感的にプレイできるように……とは思っているのですが
まだまだユーザビリティや説明不足なところが多いと思うので
操作や仕様は同梱のテキストをお読みください。
 未実装リスト
クリティカル効果
洞窟ボス敗北イベント
3面以降
一部のメニュー項目
コンフィグ
求愛
バグ報告をしてくださる方は、下記のテンプレートを使ってPixivのメッセージで送ってもらえるとありがたいです。
可能であれば、バグを再現可能なセーブデータをこちらのアップローダーにパス付きでのアップロードをお願いします。↓
http://ux.getuploader.com/game_zatta/
他人に見られても構わん!という男らしい人はパス無しでも構いませんが……。
(セーブデータ無しのバグ報告のみでもとてもありがたいです!!ただ、再現可能なセーブデータがあると、とても助かります。)
 テンプレート記入例
【バグ内容】高いところから落ちるとキャラクターが床を突き抜けて消滅する
【再現手順】森マップ中央の高台からジャンプして攻撃すると再現できます
【データ】有 
【DLパスワード】test243
 既知の不具合
・洞窟ボスに対して右端で通常攻撃三段目を当てると高台に登ってしまう
・H中に店の人に話しかけるとH状態がループしてしまう
・ロードした後、マップ移動を挟まずに技をだすと最初の一回だけ少しカクつく
 現状仕様としておきたいこと
・タイトル画面で技を出す瞬間カクつく
 起動処理軽減のため、タイトル画面ではメモリロードをしてないので、仕様です。
※12/8追記
バグ報告関連の記述を少し変えました。Pixivメッセージにお願いします。
And Google translate version:
Screenshot of scenes where images looks fun.
It's a fun action RPG game with fighting etch, etiquette related status, state anomalies and fighting fun.
I think that there are minor bugs, but since big bugs have not appeared for a while ... OK! Maybe!
Since it is an action game, I think that it is possible to play intuitively without reading the instruction manual as much as possible ...
I think that there are still many usability and explanation shortage
Please read the enclosed text for operation and specifications.
Unimplemented list
Critical effect
Cave boss defeat event
3rd or later
Some menu items
Config
Courtship
Those who would like to report bugs would be appreciated if you send them with Pixiv's message using the template below.
If possible, please upload saved data that can reproduce bugs with a path to this uploader. ↓
http://ux.getuploader.com/game_zatta/
I do not mind being seen by other people! A manly man named it does not matter even if there is no pass ... ....
(It is very much appreciated even with a bug report without saving data !! However, it is very helpful if there is reproducible saved data.)
Template entry example
【Bug Contents】 When the character falls from a high place, the character passes through the floor and disappears
【Reproduction procedure】 You can reproduce by jumping from the hill in the center of the forest map and attacking it
【Data】 Yes
【DL Password】 test 243
Known bug
· If you hit the normal third attack on the right end against the cave boss, you will climb the hill
· H state gets looped when talking to a store person during H
· After loading, if you skill without pinching the map move, it gets a little bit of first try
Things to keep as current specifications
· Moment to put out a technique on the title screen
It is a specification because it does not load the memory on the title screen to reduce startup processing.
※ 12/8 additional note
I changed a bug report related description slightly. Pixiv message please.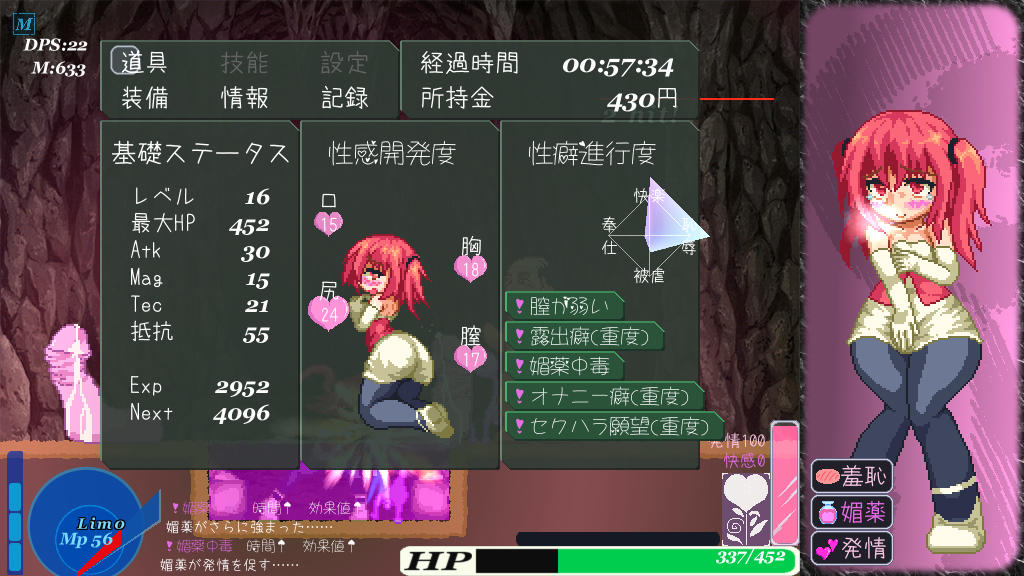 Last edited:
8